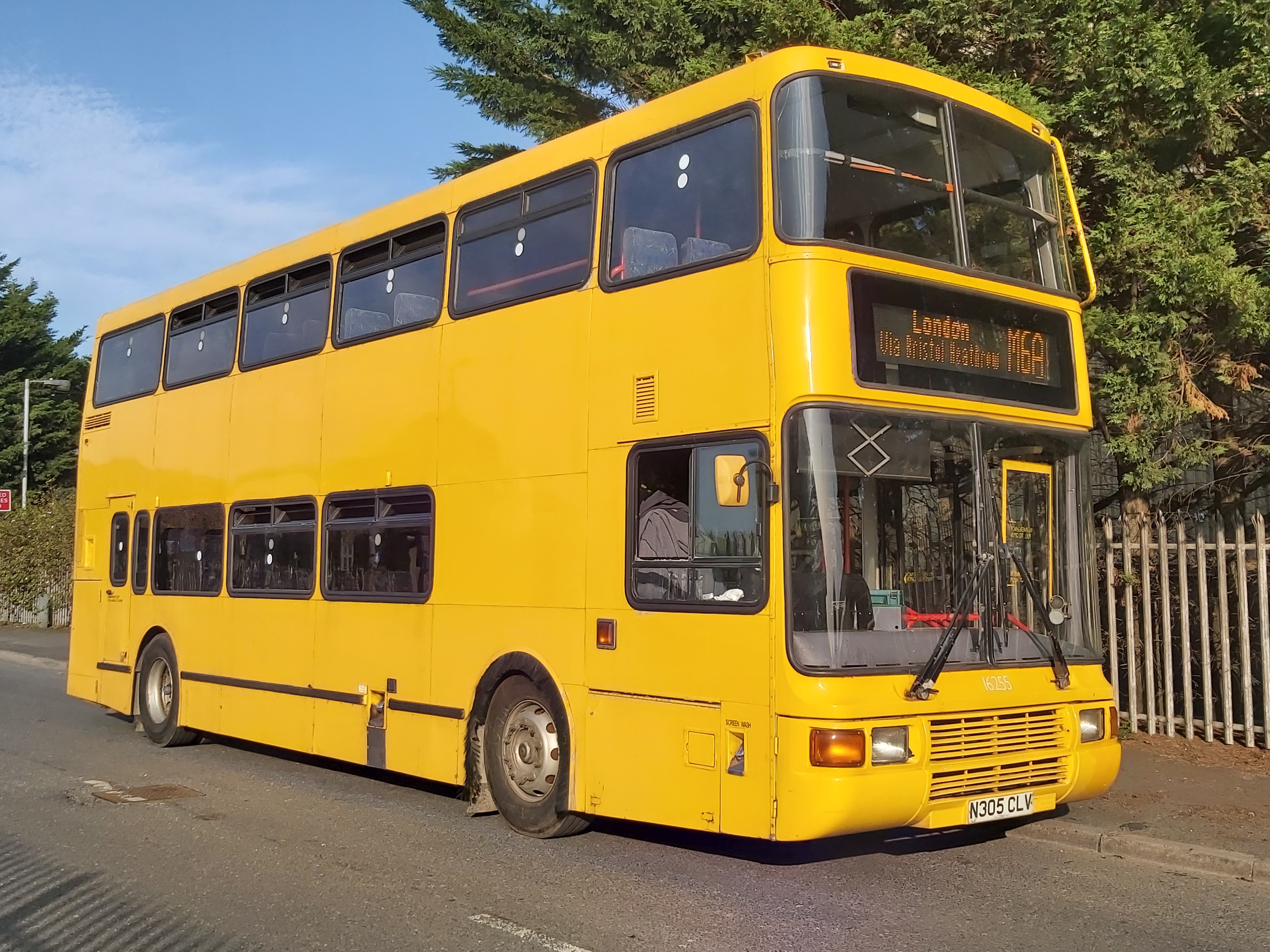 | | |
| --- | --- |
| Fleet number | 0305 |
| Registration | N305 CLV |
| Chassis type | Volvo Olympian |
| Body type | Northern Counties Palatine II |
| Engine | Cummins L10 |
| Gearbox | ZF Ecomat |
| Seating layout | H47/30F |
| Date first registered | March 1996 |
Early years
N305CLV was one of three long-wheelbase Volvo Olympians with Northern Counties Palatine II bodywork delivered to the Southport & District division of MTL (Merseyside Transport Limited) on 4th March 1996, intended for use on the 284 Crossens - Southport - Liverpool route. Numbered 0305, it entered service alongside sisters 0303 and 0304 in March 1996, based at Canning Road depot in Southport's Blowick suburb.
0305 was one of a batch of 36 of these high-specification buses, six of which were originally intended for Southport. However, the 284's frequency was halved to hourly from 5th February 1996, resulting in Canning Road receiving only three examples; the remaining 33 of the order (numbered 0271-0302 and 0306-0308) were new to MTL's Wirral Peninsula Buses division. 0305 and its sisters were generously appointed as part of a concerted effort to boost bus travel in areas of higher car ownership, boasting such creature comforts as high-backed coach seating, carpeted fittings, double glazing, radio speakers, internal dot matrix displays and even magazine holders. They were a considerable step-up in quality from the Leyland Olympians and Volvo B10Bs they replaced on the 284.
Southport's trio differed from the Wirral-based contingent in the addition of a lower-deck rear window and a slightly more spacious cab area. They were introduced in the standard MTL livery of crimson and cream, complete with Southport & District emblems and the town coat of arms. Seating capacity was 71 in total: 43 upstairs and 28 downstairs.
The 24-mile 284 route was 0303-05's province throughout their time at Canning Road and they rarely strayed onto other routes; however, sporting tachographs, they could occasionally be seen on private hire work. 0305 made a visit to Fleetwood in the summer of 1997 on such work and it attended at least two events during its stay at Southport: the Gateshead Bus Rally on 12th May 1996 at Gateshead Metrocentre and the Ribble Enthusiast Club's 24th Commercial Vehicle Road Safety Run on 18th August 1996.
On 12th February 1999, 0305 was downseated to CH39/28F, with its 35 sisters similarly treated. The removal of four seats upstairs and rotation of three other rows created a remarkably spacious upper deck and offered a degree of protection against vandalism. This was never considered an issue on the 284, but many bus types across the MTL North fleet had seats removed as a precaution.
Arriva North West
On 17th February 2000, the ailing MTL operation was purchased by Arriva and 0305's Southport & District branding was quickly replaced with Arriva logos. A decision was soon taken to concentrate the long-wheelbase Olympians at one depot. Thus, in April 2000, 0305 alongside stablemates 0303 and 0304 were transferred to Laird Street depot in Birkenhead, where they joined the other 33 examples of this type. The 284 route suffered a decline in quality as Volvo B10Bs made a comeback, although it had returned to a 30 minute frequency in November 1999.
The remainder of 0305's stay with Arriva was spent at Birkenhead, where it was mainly used on various 'Cross-River' services connecting Liverpool and the Wirral, including the 407/408 (Liverpool to New Brighton via Moreton), 432/433 (Liverpool to New Brighton via the Kingsway Tunnel), 437 (Liverpool to West Kirby), 464 (Liverpool to New Ferry) and 472 (Liverpool to Heswall). It was also used on rail replacement duties and some of the Wirral's local routes, particularly the 410 (New Brighton to Clatterbridge Hospital) and 411 (New Brighton to Birkenhead). As one of a small pool of tachograph-fitted buses at Laird Street, it continued to see use on private hire work including a visit to Blackpool on 25th October 2009. A further periodic use for 0305 and its tachograph-fitted stablemates was Mersey Ferries contracted work, returning passengers from Manchester Ship Canal excursions.
In 2001, 0305 was repainted into Arriva's standard aquamarine and cream livery with 'Cross-River Express' branding; its interior was unaltered. Its fleet number was changed to 3305 in July 2001 as Arriva renumbered swathes of former MTL buses.
The arrival of 23 Alexander Dennis Enviro400s at Laird Street in January 2009 saw the long-wheelbase Olympians usurped on the garage's flagship 432, 433 and 437 routes. Numerically the first 20 of the 36-strong fleet left Laird Street for other Arriva North West depots from February 2009 but 3305 was one of those to remain at Birkenhead. It continued in service, mainly on the 407, 464 and 472 routes but still covered for the Enviro400s on the 432, 433 and 437 from time-to-time. Usage on town services also increased as Laird Street had enjoyed a small net gain in double deckers.
Arriva's commitment to making all its major Merseyside routes low-floor by 2011 effectively sounded the death knell for 3305. The remaining Palatines were replaced by second hand ex-London buses in summer 2011, comprising a mixture of DAF DB250s and Volvo B7TLs which were decidedly spartan internally compared with the Palatines. 3305 was withdrawn in August 2011 following a 15-year career on Merseyside and was one of several to be offered for sale by Used Coach Sales of Warrington.
South Gloucestershire
There was life after Arriva for 3305 as it was one of a handful obtained by South Gloucestershire Bus and Coach Company (SGBCC). Purchased on 21st October 2011, it began a new life based at Patchway depot, north of Bristol, where it was to be used on a mixture of school contracts and commercial services. It was repainted into a plain yellow livery in November 2011 and had its capacity increased to 47 seats upstairs and 30 downstairs on 29th August 2013, when it was re-certified as a coach with no permitted standing capacity. SGBCC also re-upholstered N305CLV's seating with a blue moquette.
N305CLV operated under SGBCC without a fleet number, alongside at first 3306, 3307 and 3308. SGBCC subsequently acquired 3271, 3277 and 3294 which complemented a wider fleet of coaches and other Olympians. The designation of N305CLV and its sisters as coaches allowed them to continue in public service well beyond the Disability Discrimination Act's 1st January 2017 deadline for the use of step-entrance double decker buses.
Alongside the school work, the main commercial service was the 462 Bristol City Centre - Lyde Green route, which involved a spirited run along the first four miles of the M32 motorway. From 9th-12th August 2012, N305CLV was used on Balloon Fiesta shuttles from central Bristol to the Ashton Court Estate.
SGBCC was sold to Stagecoach West in October 2019 but N305CLV remained in service under the new owners, gaining the fleet number 16255 for the final stint of its career. It continued on the 462 until 2nd January 2020, by which time low-floor replacement Dennis Tridents had arrived; N305CLV's final public service was the 1715 Bristol to Lyde Green that day. Retained for school contracts and private hire, it was finally withdrawn in March 2020 due the effects of the COVID-19 lockdown, completing a 24-year run in service. It was subsequently moved to Stagecoach West's Stroud depot for storage after nearly nine years at Patchway.
Preservation
We were delighted to acquire 0305 for preservation in September 2020, driving it from Stroud back to Merseyside on Friday 18th of that month. Just two days later, it returned to its hometown of Southport for the first time in 20 years as part of the Merseyside Bus Cavalcade event organised by the Merseyside Transport Trust. Having spent a few months stored at the John Mason yard in Huyton, 0305 now resides alongside a superb collection of classic buses at the North West Vehicle Restoration Trust in Kirkby.
Following the demise of 0304 in 2011 and 0303 a year later, 0305 is the sole survivor of the three new to Southport. Fittingly, it is the one we remember as the best and it is surely the most heavily used of all 36 of the type, following its first four years on the high mileage 284 route and long subsequent career.